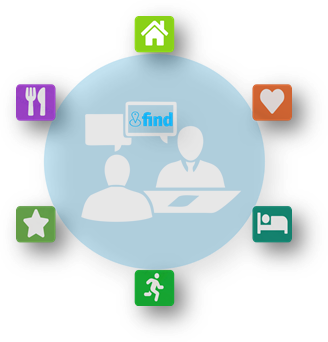 Facilitating the citizens and entrepreneurs
iFind.ae "iFind – for you" is a platform to find what you are looking for, even from the comfort of your sofa.

Either you are a Business owner – want to promote your business, or just a Citizen – need to find the right service or a leisure activity or a delicious dinner or a fitness centre nearby. You name it and "iFind.ae" find it for you.

Citizens can find the highly rated business or a mesmerising event in their town or perhaps by the corner of their street. They can make online appointments and choose what matters to them absolutely free. All that matters to you, we bring you all together, saving your time and energy.
what can iFind do for your business?
Business owners can increase the visibility of their business profile on a single point of contact; iFind.ae website, your customers will find you easily. iFind.ae platform is available 24/7 a week and 365 days around the year as it does not sleep. Even more it is accessible by users through smart phones, pc, or even smart TV. Each device which is connected to internet and has a web browser, can access this service; iFind.ae. Your business is not far from your customers. By advertising with us you will come even more closer to your customers. Thus let's join the community and start telling your story your way, in form of; photos, videos, reviews, business profile, opening hours and all in one place. As iFind.ae is also promoting your business through international social media platform like; Facebook, Instagram and YouTube. In this way you do not need to update information on various platforms. Only update on iFind.ae and it will be available on all other social media. This is also useful for B2B marketing as well. No need to travel door to door for marketing of your business to other businesses. This platform will work as meeting point for all businesses.

In short, the philosophy behind this platform is very simple: "I Find For You". Thus keeping it transparent and simple, we look forward to see you onboarding onto iFind.ae.